Hi, I'm Alexandria.
I am an academic researcher and graduate student in the area of health, as well as a music photojournalist.
Please see the menu navigator to explore my past and current work.
Mental Health Research Canada - 2023 Studentships

December 5, 2022 -Mental Health Research Canada (MHRC) and the Saskatchewan Health Research Foundation (SHRF) are excited to announce two Saskatchewan-based Mental Health Impact Studentship recipients for the winter of 2023.
Mental Health Impact Studentships provide funding to support students through a 6-month research project on mental health that is co-supervised by both an academic supervisor and a community-based supervisor.
In total, SHRF has contributed $30,000 to this winter's Mental Health Impact Studentships.

Join us in congratulating one of our 2023 MHRC-SHRF Mental Health Impact Studentship recipients, Alexandria Pavelich, a Ph.D. student in the department of sociology at the University of Saskatchewan.

Details on the full project can be found here: https://www.mhrc.ca/student-researchers/alexandria-pavelich


Saskatchewan Researcher is First to Show Service Dogs Can Prevent Suicide
Pain sociology expert Alexandria Pavelich among leading line-up of speakers at Congress 2022,
Canada's largest humanities and social sciences conference, taking place virtually May 12-20, 2022.


Please see CURRENT PROJECTS for additional media coverage (CTV, CBC, Global, The National, CKOM)
for the week of May 9 to 13th, 2022 regarding the News Release (Posted Below).
Q+A: Sask. researcher says service dogs prevent suicides
May 10, 2022 - Alexandria Pavelich sits with her dog Zola, who is a St. John Ambulance Therapy Dog in Training. Pavelich, a PhD student researcher in the University of Saskatchewan's Office of One Health and Wellness, says service dogs not only save lives but can mitigate the growing mental health crisis. Read the full StarPhoenix article and front page coverage HERE.
Photo Credit: Matt Smith, Saskatoon StarPhoenix/PostMedia

Saskatoon, Sask., May 9, 2022 – Every day, an estimated 11 Canadians will die by suicide, brought on by overwhelming feelings of depression,loneliness and hopelessness, and a sense that they just don't matter. Now, for the first time, a Saskatchewan researcher has shown there is one bond that can make a difference between whether they choose to live or to die: the relationship with their dog.
After setting out to prove that "mattering" — a validated construct shown to reduce suicidal behavior when people feel they are valued by others — can also exist between people and their pets, Alexandria Pavelich, a PhD student researcher in the University of Saskatchewan's Office of One Health& Wellness, is on a mission to spread awareness that service dogs not only save lives, but are an effective support to help mitigate the growing mental health crisis in this country.
Pavelich will be sharing this message as a featured speaker at the upcoming Congress of the Humanities and SocialSciences (Congress 2022), Canada's largest academic gathering and one of the most comprehensive in the world, taking place virtually this year from May 12-20.
Billed as a leading conference on the critical conversations of our time, Congress 2022 serves as a platform for the unveiling of thousands of research papers and presentations from social sciences and humanities experts worldwide. With more than 6,000visitors expected to log in, the event focuses on reimagining the future following two years of the COVID-19 pandemic and other life-altering world events, with the goal of inspiring ideas, dialogue and action that create a more diverse, sustainable, democratic and just future.
"We need to start recognizing that there are animal-assisted interventions that can help improve people's mental health," said Pavelich, whose interest in the value of animals as asocial support system was sparked growing up on a Saskatchewan farm, when her companion dog became her biggest support during her parents' divorce.
"When people are suffering from trauma or substance use, and need 24/7 support, they can't always get that in a busy emergency department," she added. "A dog always seems to understand,love and accept, and is non-judgmental in ways that humans sometimes are not."
Pavelich's first-of-its-kind study — completed as part of a broader study led by University of Saskatchewan sociology professor Colleen Dell — followed four Canadian veterans over a 16-month period as they were paired with service dogs to help them deal with post-traumatic stress disorder (PTSD), substance use and suicidal ideation. What she found is that the dogs were a direct catalyst in preventing suicidality among the veterans, and helped to make them feel socially supported.
"The veterans reported that they had tried all sorts of therapy, been on all types of medication, and yet nothing really improved in their lives until they got their dogs," said Pavelich,adding that service dogs were also seen as acceptable whereas other mental health interventions were viewed as stigmatizing. "They repeatedly shared how their dogs literally saved their lives and it was the dogs that seemed to bring together all their efforts at various treatments," she said.
There are seven different markers used to measure mattering, to show that a person feels significant in the eyes of others and that someone else cares about their fate. When analyzing the in-depth interviews with veterans, conducted every three months, Pavelich discovered all seven markers were present: attention, importance, dependence,appreciation, individuation (feeling special), noted absence (feeling missed)and ego-extension (someone else is emotionally invested in you.) The finding is important, she says, because it shows service dogs have a unique role to play in providing therapeutic benefits and reducing distressing psychophysiological symptoms.
For example, one veteran shared how he had carefully planned his suicide and had left the country to carry through with it. When he found himself in his hotel room with his service dog,he looked down and found he couldn't go through with it, she explained.
"He turned around, went back home and now he's thriving, but if he didn't have his dog there for support, who knows what would have happened?" said Pavelich.
Pavelich's findings are now part of a freely available toolkit for Service Dog Organizationsto inform service dog trainers about how service dogs can play an important role in substance use recovery and peer support. With the Canadian Mental Health Association reporting that one in five Canadians will personally experience a mental health problem or illness in any given year, she hopes other groups will take note of the broader implications of her work as well.
"The human-animal bond and the strong social support it provides can be the primary mental health support for people," said Pavelich, who last month was awarded an "Outstanding Graduating Sociology Student" award at the Master's level from the Canadian Sociological Association (CSA)."We need people to start realizing: service dogs can improve our mental health."
Organized by the Federation for the Humanities and Social Sciences, Congress 2022 is sponsored by the Social Sciences and Humanities Research Council of Canada, Mitacs, SAGEPublishing, Universities Canada, the Canada Foundation for Innovation, and University Affairs.
Registration– which includes 100+ keynote and open Congress 2022 sessions (with recordings available until June 3, 2022) – is $55. Visit www.congress2022.ca to register for a community pass and access the program of events open to the public. Use coupon codeTRANSITIONS2022 for 10% off registration.
###
For more information:
GBPR- Tel: (877) 986-1340
Email: info@gailbergmanpr.com

Animal-Assisted Intervention: The Impact of Working Dogs through the One Health & Wellness Office / SUAP
Veteran Service Dogs Can Save A Life

On November 11, 2021, an article featuring my research and various radio clips were played on CJWW sponsored Saskatoon radio stations over a 24-hour period in celebration of Remembrance Day to recognize the important role that service dogs have for Veterans' in Canada.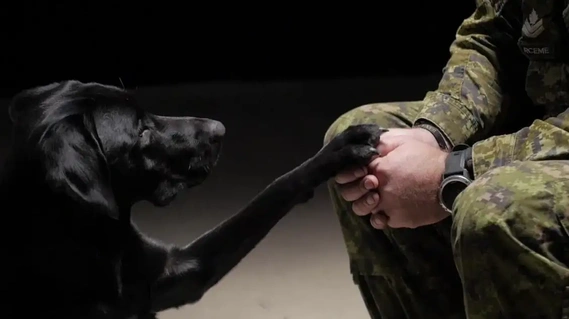 "Young Innovators: Hounds of hope; U of S researcher investigates how service dogs can improve the mental health of veterans"
On October 9, 2021, I was featured as a Young Innovator for my service dog research in the Saskatoon StarPhoenix and through the University of Saskatchewan "Research Impact" feature.

Full Article Available HERE
As well as on the USask Website

Contact Information
Use the form to the right, or contact me regarding my RESEARCH:

Or PHOTOGRAPHY: